Follow us on Facebook
625 Pennsylvania Avenue
San Diego, California 92103
619.298.7729

For Directions and Parking click here.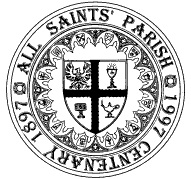 Sundays - Low Mass 8:00am; Solemn Mass 10:30am
Adult Christian Formation 9:30am Sunday School 10:30am
Child Care at 8:00am and 10:30am Services





This Sunday and Beyond
The Sunday and Beyond includes Father McQueen's reflection on the Sunday readings, the calendar and upcoming events
Visit Father McQueen's Sunday reflections Blog



Sunday's Solemn Mass bulletin, in PDF format.


6-11-2017 TRINITY SUNDAY SOLEMN MASS BULLETIN YR-A.pdf



Last Sunday's Solemn Mass bulletin, in PDF format.


6-3-2017 Pentecost SOLEMN MASS BULLETIN YR-A.pdf



---

ALL SAINTS' YOUTUBE CHANNEL

Have you seen All Saints' Church YouTube channel?

Here is a new video From Palm Sunday Created by Fr. Schuneman with the help of John Gray III.




---




Successful Art and Music Event

A wonderful time was had by parishioners, friends of All Saints' and neighbors at our Art & Music event last Sunday. Artists Todd Muffatti, Kathryn Dreyer, Troy and Teresa Lindemeier displayed and sold their artist creations under the courtyard trellis while BJ Robinson and friends filled the air with music from musical theater, jazz and opera.

Our thanks to the artists and musicians for giving their time and talent to this Sunday event. Picture by John Gray III. More pictures in the coming issue of our June/July newsletter.

Pictures from the Art & Music Event – May 21st


Photos by John Gray III




---




Pictures from Holy Week 2017




Photos by John Gray III




---




---




BLESSING BAG
Shopping Time

It is time to replenish items for our Blessing Bag Ministry. We are especially in need of the following travel-size items:
93 bottles of body lotion,
100 packages of Kleenex,
68 bottles of shampoo,
93 bottles of conditioner,
100 mini-deodorants,
61 individual soaps/bottles of body wash,
90 toothbrushes,
99 small dental floss packages and
49 combs.
(Full-sized items will be donated to St. Paul's PACE program.)

We have 48 granola bars on hand, and could use more granola bars, water, crackers/cookies and nuts. You may tear out this page as a shopping list or a separate list is on the front and back tables. The Social Action Committee will have small bags ready for distribution in mid-June.

Our next Blessing Bag Event will be in August 2017. Thank you for your continued support. Your thoughtfulness and giving spirit is very much appreciated.

In service and with gratitude,
Your Social Action Committee

Click here for a list of the above items to add to your grocery shopping list. Link to May Blessing Bag Shopping List attached above.




---




CHRISTIAN FORMATION

Christian Formation resumes on Sunday, June 11, at 9:30am in the Fireside Room with a Bible Study on the Gospel of Matthew.




---




Pictures from the New City Sinfonia concert last Sunday - March 19, 2017



Photos by John Gray III




---





Parish life

Do you enjoy using your phone to take pictures of where you are? We're looking for photos of our parish life at All Saints': parishioners as they arrive for Mass, or after Mass as they congregate on the patio, or are in the Parish Hall enjoying fellowship during the coffee hour, or at all parish events such as upcoming All Saints' Sunday. If you do, please email your photos to Louise Lawson at:






Presentation of our Lord Sunday - Feb 5, 2017 pictures
Fr. Tony's 37th anniversary of his ordination



Photos by John Gray III




ALL SAINTS' PRAYER CHAIN

We, at All Saints', have a long time tradition in our prayer chain. We feel that as we pray together and pass our thoughts and prayers to God that we deepen our relationship, not only to God, but ourselves as his servants.
Please consider joining the prayer chain ministry. Through prayer we can possibly make a difference in the lives of our Parish family and friends. Contact Edith Thrumston.

Prayer: The world's greatest wireless connection.





CORNER MONUMENT PLAQUE


On your next visit to All Saints' take a walk to the corner of Pennsylvania and 6th Avenues. There you will find that the church's cornerstone and the letters on the cornerstone have been repainted; and that All Saints' seal has been recreated in bronze. In the words of one of All Saints' parishioners— "classy". In the December/January newsletter issue an article will describe the various elements of the seal.






September 25, 2016 pictures - Baptism of Isla



Photos by John Gray III



From the All Saints' Concert Series - June 2016
St. Petersburg Men's Ensemble (Russian)



See the video also.
Photos by John Gray III





Trinity Sunday - May 22, 2016 pictures - Bishop's visit



Photos by John Gray III



Preschool Christmas Pageant


December 16th at 5:00pm. Hear the children sing christmas song lead by Fr. Sanders.





Sunday Morning Childcare

We are excited to announce that our nursery is now being staffed through Panda's Domestic Referral Agency, which provides childcare for many churches in San Diego. All sitters are childcare professionals that have undergone a national background check and are Infant and Child CPR Certified.





Special Offering on Second Sunday's loose plate

The loose plate collection on the Second Sunday of each month goes to the service of our community through the Parish Pastoral Needs Fund. Your generous contributions help us to serve members of All Saints' in need and our less fortunate neighbors as Christ serves us. Thank you for your continued help with this vital ministry.





All Saints' Action Committee Presents:

All Saints' Reading Group
Share your love of reading with others

Visit our neighbors at the various St. Paul's Senior Homes
Opportunities to read to residents in group and individual settings
Approximately 30 minutes per visit
Scheduling based on your availability, and the and needs of St. Paul's
6 month initial commitment
If you are interested in this exciting new way to connect with members of the community, contact: Joni Palumbo and Vanessa Brush throught the church office.




Want to be an Acolyte?

We have a pressing need for additional Acolytes in order to continue our worship in the manner to which we have all grown accustom. This is particularly true for the 10:30 Mass. If you are seeking an opportunity to serve and think that you might be interested in serving at the Altar, come by the Acolyte room before or after the service to learn what we do.