Follow us on Facebook
625 Pennsylvania Avenue
San Diego, California 92103
619.298.7729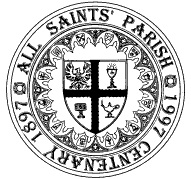 This Sunday and Beyond
Our weekly blog reflecting on the Sunday readings.



Sunday's Solemn Mass bulletin, in PDF format.


3-11-2018-THE FOURTH SUNDAY IN LENT SOLEMN MASS BULLETIN YR-B.pdf

Last Sunday's bulletin, in PDF format.
3-4-2018-THE THIRD SUNDAY IN LENT SOLEMN MASS BULLETIN YR-B.pdf




---

Lent Services

STATIONS OF THE CROSS

· - Wednesdays at noon - Fridays at 6:15 pm

- Starting on Friday, February 16th through Friday, March 23rd.

EVENING PRAYER, SOUP and STUDY

Join us on Sunday evenings (March 4 through March 18th) for evening prayer, soup and study in the Parish Hall at 5:15 pm. Our study will be "Saints Alive", written by Bryan Green who was a famous Church of England priest through his preaching and teaching on the life of the church development especially as an evangelist.

Father Eaton shared with those attending the annual meeting and it is in his newsletter message this month as well ( see page 1) that his sense of All Saints' Parish is that there is a great need for a full understanding of Fellowship. It is a widely encompassing subject. Reading and discussion of Bryan Green's book "Saints Alive" will help those who attend and thus the parish as well.

Printed copies of "Saints Alive" are also available on the back and front tables in the church.

For the first 7 chapters in PDF click here. For chapters 8 to the end in PDF click here.

Please email Louise Lawson at administrator@allsaintschurch.org or call the Parish Office or see Louise at the 10:30am coffee hour to sign up for bringing soup and/or bread for one of three Sundays — March 11, 18.

We look forward to your joining us for prayer, study and fellowship.

LENTEN MEDITATIONS

Fr. Eaton suggests either of these 2 on-line free sources for your daily Lenten meditations.

http://tcfchurch.org/477

(Journey to the Cross)

or

https://www.bible.com/reading-plans/83-lent-for-everyone

(Lent for Everyone by Tom Wright)




---




2018 Event - All Saints' Hosts WillanWest 2018
March 24 at 7:00pm

The next monthly celebration of the music of Healey Willan. will be a on Saturday, March 24 at 7:00pm sung by the Willan Collective directed by Ruben Valenzuela.

Willan West 2018 continues in March with 2 works of Willan, plus a beautiful motet by Toronto based composer Stephanie Martin. Stephanie Martin was one of Willan's successors at St Mary Magdalene, Toronto where she served as Director of Music from 2006-2012.

This Mass will feature two of Willan's compositions: Missa Brevis no. 10, and one of his so-called 'Lady Motets', I beheld her beautiful as a Dove. Missa Brevis no. 10 is one of the 14 Missa Breves and was composed in 1948 for the Gallery Choir of St Mary Magdalene (SMM). As with his other Missa Breves, they are tailored specifically for the acoustic and liturgical environment of the parish. The motet I beheld her beautiful as a Dove quite simply is one of Willan's most beautiful compositions in miniature. Stephanie Martin's motet O sacrum convivium was written for the Gallery Choir of SMM, where one can detect the Willan aesthetic in this brief Eucharistic motet.

For additional information about Healey Willan and the Healey Willan project visit willanwest.org. or pick up a press release which is is on the back and front tables in the church.

Bring your friends to listen to the beauty of Willan's music sung in a venue similar to the Church of St. Mary Magdalene in Toronto.

"Music has been my chief delight, and if at any time I have been able to share this delight with others, I am content."





---

All Saints' to Host
Willan West 2018

WillanWest 2018 is a Southern California celebration of the Fiftieth Anniversary of the death of English-Canadian composer Healey Willan who served as organist and choirmaster at the Anglo-Catholic parish of St. Mary Magdalene in Toronto from 1921-1966. All Saints' was chosen to host this celebration as it is the only Episcopal parish in San Diego that has the potential to duplicate the environment of St. Mary Magdalene due to its traditional architecture and liturgy.

WillanWest choir under the direction of Ruben Valenzuela will hold 14 Saturday events at All Saints' – Mass, Evensong and Benediction at 7:00pm from January 2018 through November 2018. For additional information about Healey Willan and the Healey Willan project visit

willanwest.org

.

Click Here for more detailed Press Release.

Would You Like to Help?

An anonymous donor has offered to match contributions of up to $1000 in support of All Saints' role in the Willan West program. If you would like to contribute to the matching fund, please send a check to All Saints' Episcopal Church, 625 Pennsylvania Ave., San Diego 92103, and note "Willan Fund" on the check or just drop it in the contribution plate! If you would like to attend the next Willan event as a greeter on behalf of the church, please let Louise Lawson know by calling the church office at 619-298-7729





---

ESCAPE
Six Bach Suites for Solo Cello
CD Release

Sophie Webber, cellist, who has performed at All Saints' in concert and played her cello during a Sunday Mass is excited to announce San Diego album release concert this Saturday March 10th, 7pm, at St. Paul's Cathedral (2728 6th Ave). San Diegan friends, I would love to see you there!

Tickets are $15 (includes a $5 discount on a $20 CD)/$25 (includes a pre-purchased CD)/$0 (children under 10) and are available at

https://www.brownpapertickets.com/event/3319517

(and at the door).

Sophie was recently fortunate to be interviewed by Maureen Buja (who lives in Qatar) of the Hong Kong-based International Classical Music Magazine, Interlude. Here is the article/interview about ESCAPE that was published last week :

http://www.interlude.hk/front/escape-sophie-webber/

This week Sopjie was delighted to learn about the following article by George Varga of the San Diego Union Tribune about ESCAPE and my CD release concert this Saturday March 10:

http://www.sandiegouniontribune.com/entertainment/music/sd-et-artscal-sophie-webber-20180304-story.html

ALL SAINTS' YOUTUBE CHANNEL

Have you seen All Saints' Church YouTube channel?

Here is a new video From Palm Sunday Created by Fr. Schuneman with the help of John Gray III.




---




Pictures from Epiphany 2018



Photos by John Gray III




---




Pictures of Christmas 2017 flowers



Photos by John Gray III




---




Pictures from Christmas Eve 2017



Photos by John Gray III




---






Parish life

Do you enjoy using your phone to take pictures of where you are? We're looking for photos of our parish life at All Saints': parishioners as they arrive for Mass, or after Mass as they congregate on the patio, or are in the Parish Hall enjoying fellowship during the coffee hour, or at all parish events such as upcoming All Saints' Sunday. If you do, please email your photos to Louise Lawson at:






ALL SAINTS' PRAYER CHAIN

We, at All Saints', have a long time tradition in our prayer chain. We feel that as we pray together and pass our thoughts and prayers to God that we deepen our relationship, not only to God, but ourselves as his servants.
Please consider joining the prayer chain ministry. Through prayer we can possibly make a difference in the lives of our Parish family and friends. Contact Edith Thrumston.

Prayer: The world's greatest wireless connection.





Sunday Morning Childcare

We are excited to announce that our nursery is now being staffed through Panda's Domestic Referral Agency, which provides childcare for many churches in San Diego. All sitters are childcare professionals that have undergone a national background check and are Infant and Child CPR Certified.





Want to be an Acolyte?

We have a pressing need for additional Acolytes in order to continue our worship in the manner to which we have all grown accustom. This is particularly true for the 10:30 Mass. If you are seeking an opportunity to serve and think that you might be interested in serving at the Altar, come by the Acolyte room before or after the service to learn what we do.