Follow us on Facebook
625 Pennsylvania Avenue
San Diego, California 92103
619.298.7729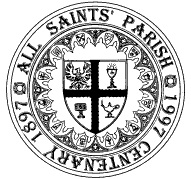 Sundays - Low Mass 8:00am; Solemn Mass 10:30am
Sunday School 10:30am Child Care at 8am and 10:30am Services
This week's calendar





This Sunday and Beyond
Our weekly blog reflecting on the Sunday readings.

Sunday's Solemn Mass bulletin, in PDF format.


11-4-2018 ~ ALL SAINTS SUNDAY ~ SOLEMN MASS BULLETIN YR-B.pdf



Last Sunday's bulletin, in PDF format.
10-28-2018 ~ THE TWENTY-THIRD SUNDAY AFTER PENTECOSTi ~ SOLEMN MASS BULLETIN YR-B.pdf


---




Fall Stewardship Campaign

As we celebrate our patronal festival this Sunday, we are kicking off our Fall Stewardship Campaign with the theme of "Giving to Grow Saints." Key features of the campaign are explained in a letter from stewardship team leader Robin Cote-Sprong which is being sent to all active members on the parish mailing list. Pledge cards for 2019 will be enclosed with the letter and are also available in the pews. If you have not received your letter and pledge card by Thursday, Nov. 8, please contact Louise Lawson in the parish office




---

Special Gift For All Saints'

The "Apostolic Succession" painting (western icon style) is given to All Saints' by Kathryn Dreyer, and has been a collaborated effort with Fr. Eaton. It will be blessed today during the second Mass, and hang above the Bishop's chair in the sanctuary. The imagery is built upon Ephesians 3:7-10. To interpret Fr. Eaton's wishes, he wanted Jesus sitting as on a grape vine with its branches symbolizing the blessing of the Apostles and its roots resting on the head and shoulders of the Bishop. This painting has been an honor to paint and a labor of love with considerable research and dedicated disciplines. "Apostolic Succession" is painted on Baltic birch wood with actual gold leaf, acrylic paints and salt. It has been a prayerful experience.




---

Concert at All Saints'
San Diego Master Chorale:
"Charpentier & The French Baroque"
Saturday, November 10

Of the San Diego Master Chorale's several fall performances, this foray into early music will be a little more intimate. The chorus partners with the San Diego Baroque Soloists, a group of five accomplished chamber musicians. Conducted by chorale director John Russell, the program includes vocal works by French composer Marc-Antoine Charpentier and French-oriented instrumental sonatas. 7:30 p.m. November. 10. Tickets are: $10-$40. To order tickets visit https://www.sdmasterchorale.org/


---

All Saints' Church
Is Searching for a new Rector

Do you feel a calling to All Saints'?

Are you looking for a Parish and want to know more about All Saints'

Attached is our Parish Profile.





---





---

All Saints' Commemoration

On Sunday, November 4 we will commemorate All Saints' Day. In honor of the day please wear white and gold or yellow clothing, especially (just as the parish is invited to wear red and white for Pentecost). Planned for the day are celebrations of First Communion and Baptism.





---

Fall Holiday Arts & Crafts Show and Sale & Music

Mark your calendar - Sunday November 18 for our annual Fall Holiday Arts and Craft Show from 9am to 4pm in our Parish Hall. Local and parishioner artists and craft persons will be displaying and offering their art for sale. See illustrations above.

Performing at the Arts and Craft show will be the Sam Diego Sam Band, SDSB. They are a 5 piece classic rock band playing originals and rock songs from around the 70's. The band features our own Sam and George Dreyer of All Saints'. The band will begin playing around 1pm.

Google the band's website to sample their music at

http://www.sandiegosam.com





---

Social Action Committee
Join the Sweatshirt and Sweatpants Drive

Fall has finally arrived in San Diego and we need your support for our Sweatshirt and Sweatpants Drive to benefit people in need in our community.

We currently have $300 in monetary donations that will go directly to the purchase of cold weather clothing for the homeless.

Partnering with Scripps Mercy Hospital allows us to reach the neediest in our neighborhood. Often, the clothes that folks were wearing when they arrived at the ER are not suitable to be worn at discharge.

Not sure where to purchase your sweats, t-shirts and socks? Walmart, Target, Costco and Amazon have reasonably priced clothing in stock. Monetary donations are always welcome. (there are envelopes on the back table)

Our Donation Drive runs through Sunday, December 2, 2018.The SAC will schedule a time to drop-off our items in mid-December.

In Service,

All Saints Social Action Committee

Tamela Dreyer, Barbara Wilder, Kay Phillips, Lynette Blakney





---

Garden Project Update - By Sue Johnston

Our Saturday work party managed to pull more weeds, move 10 yards of compost from the Preschool parking lot to the garden and rototill it into the existing space. The 8 o'clockers were taken on a tour after Mass and were impressed by the changes taking place. I hope that you have had a chance to pay it a visit as well. I want to especially thank Homero for all of his diligent work and getting the site prepared for us to begin at 0800 and then joining us in the wheelbarrow brigade. Thanks also go to Bill Johnston, Cree Craig, Robin Cote-Sprong and Elizabeth Rietow for braving the heat and working to make our project a reality! Our next phase will be installing a solar irrigation system. This should take place in the next few weeks. — Sue Johnston





---

Willan West Don't Miss these final Services
October 27 Event at 7pm
November 17 Event at 7pm


27 OCTOBER 2018: 7PM

All Saints' Episcopal Church, San Diego

Choral Mass • SS. Simon and Jude

Willan West marks the Feast of SS. Simon and Jude by offering Missa Brevis no. 7 'O Westron Wynde' (1936) along with the motet Behold, the tabernacle of God (1933), dedicated to American composer Leo Sowerby, and the Eucharistic motet O how sweet, O Lord (1924). Willan's Missa Brevis no. 7 is based on the old English tune O Westron Wynde used by many composers as a cantus firmus through the centuries, including John Taverner, Christopher Tye, and John Sheppard.

REPERTOIRE:

Missa Brevis no. 7 'O Westron Wynde', 1936

Motet: Behold, the tabernacle of God, 1928

Motet: O how sweet, O Lord, 1924

17 NOVEMBER 2018: 7PM

All Saints' Episcopal Church, San Diego

Solemn High Mass • St Gregory the Wonder Worker

Willan West concludes its year long festival in glorious fashion by marking the Feast of

St Gregory the Wonder Worker with a Solemn High Mass. For this final Mass, Willan's Missa Brevis no. 8 'SS. Philippi et Jacobi (1949) will be offered, along with two of his most memorable motets, O King to whom all things do live (1931) and his masterpiece Gloria Deo per immensa saecula (1950). Missa Brevis no. 8 follows the typical pattern of a Willan Missa Brevis (Kyrie, Sanctus/Benedictus qui venit, Agnus Dei), and was written for the birthday of Willan's mother, 1 May.

REPERTOIRE:

Missa Brevis No. 8 'SS Philippi et Jacobi', 1949

Motet: O King to whom all things do live, 1931

Motet: Gloria Deo per immensa saecula, 1950

Please join us for an evening of reverential music sung by some of the best voices in San Diego.





---

Pictures from Holy Week 2018






Photos by John Gray III





---

All Saints' to Host
Willan West 2018

WillanWest 2018 is a Southern California celebration of the Fiftieth Anniversary of the death of English-Canadian composer Healey Willan who served as organist and choirmaster at the Anglo-Catholic parish of St. Mary Magdalene in Toronto from 1921-1966. All Saints' was chosen to host this celebration as it is the only Episcopal parish in San Diego that has the potential to duplicate the environment of St. Mary Magdalene due to its traditional architecture and liturgy.

WillanWest choir under the direction of Ruben Valenzuela will hold 14 Saturday events at All Saints' – Mass, Evensong and Benediction at 7:00pm from January 2018 through November 2018. For additional information about Healey Willan and the Healey Willan project visit

willanwest.org

.

Click Here for more detailed Press Release.

Would You Like to Help?





---

Spphie Webber
Six Bach Suites for Solo Cello
Update

Here are the latest updates from Sophie Webber, cellist, who has performed at All Saints' in concert and played her cello during a Sunday Mass

She was thrilled to recently learn that ESCAPE: BACH'S SIX SUITES FOR SOLO CELLO was given a lovely and very flattering review in Gramophone magazine (June 2018 issue)! Here's an online version here:

https://www.gramophone.co.uk/review/js-bach-solo-cello-suites-webber-skoraczewski

Another very nice write up came from Jon Jacob in a review on his classical music blog, Thoroughly Good

https://www.thoroughlygood.me/2018/03/30/review-sophie-webber-plays-bach-cello-suites-on-escape/

More press reviews can be found on my EPK page under PRESS (https://www.sophiewebber.com/epk-1)

ESCAPE: BACH'S SIX SUITES FOR SOLO CELLO is also being aired on radio stations across the USA (including Southern California's Classical KUSC 91.5FM, Seattle's King FM 98.1, Iowa Public Radio, Tampa Bay (Florida)'s WUSF Public Media, Rochester (New York)'s WXXI Classical 91.5, North Carolina's WCPE The Classical Station 89.7 FM, Portland's All Classical 89.9 KQAC FM)

Other projects Sophie is currently working on include a recording of Bach Suite No.1 in G Major BWV1007 with chamber choir (singing an arrangement I wrote --minimal, highlighting harmonies and the interplay of consonance and dissonance). Martin Green, the Choral Director at St. Paul's Cathedral in San Diego (where I recorded Escape) has generously agreed to pioneer this project with me, and we will be meeting with the singers (handpicked from Martin's wonderful choirs at St. Paul's) in the next couple of weeks for an initial recording session of the Prelude from Suite No.1.

She is also working with a video artist to create another music video, this one featuring the Allemande from Suite No.6.

Sophie appreciates your interest and ongoing support




---




ALL SAINTS' YOUTUBE CHANNEL

Have you seen All Saints' Church YouTube channel?

Here is a new video From Palm Sunday Created by Fr. Schuneman with the help of John Gray III.




---




Pictures from Epiphany 2018



Photos by John Gray III




---




Pictures of Christmas 2017 flowers



Photos by John Gray III




---




Pictures from Christmas Eve 2017



Photos by John Gray III




---






Parish life

Do you enjoy using your phone to take pictures of where you are? We're looking for photos of our parish life at All Saints': parishioners as they arrive for Mass, or after Mass as they congregate on the patio, or are in the Parish Hall enjoying fellowship during the coffee hour, or at all parish events such as upcoming All Saints' Sunday. If you do, please email your photos to Louise Lawson at:






ALL SAINTS' PRAYER CHAIN

We, at All Saints', have a long time tradition in our prayer chain. We feel that as we pray together and pass our thoughts and prayers to God that we deepen our relationship, not only to God, but ourselves as his servants.
Please consider joining the prayer chain ministry. Through prayer we can possibly make a difference in the lives of our Parish family and friends. Contact Edith Thrumston.

Prayer: The world's greatest wireless connection.





Sunday Morning Childcare

We are excited to announce that our nursery is now being staffed through Panda's Domestic Referral Agency, which provides childcare for many churches in San Diego. All sitters are childcare professionals that have undergone a national background check and are Infant and Child CPR Certified.





Want to be an Acolyte?

We have a pressing need for additional Acolytes in order to continue our worship in the manner to which we have all grown accustom. This is particularly true for the 10:30 Mass. If you are seeking an opportunity to serve and think that you might be interested in serving at the Altar, come by the Acolyte room before or after the service to learn what we do.