Christ is Risen; Alleluia! The Lord has Risen indeed; Alleluia !


Follow us on Facebook
625 Pennsylvania Avenue
San Diego, California 92103
619.298.7729

For Directions and Parking click here.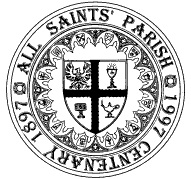 Sundays - Low Mass 8:00am; Solemn Mass 10:30am
Adult Christian Formation 9:30am Sunday School 10:30am
Child Care at 8:00am and 10:30am Services





This Sunday and Beyond
The Sunday and Beyond includes Father McQueen's reflection on the Sunday readings, the calendar and upcoming events
Visit Father McQueen's Sunday reflections Blog



Sunday's Solemn Mass bulletin, in PDF format.


4-30-2017 THIRD SUNDAY of EASTER SOLEMN MASS BULLETIN YR-A.pdf



Last Sunday's Solemn Mass bulletin, in PDF format.


4-23-2017 Second SUNDAY of Easter SOLEMN MASS BULLETIN YR-A.pdf



---

ALL SAINTS' YOUTUBE CHANNEL

Have you seen All Saints' Church YouTube channel?

Here is a new video From Palm Sunday Created by Fr. Schuneman with the help of John Gray III.




---




May Events

May Concert - If It Ain't Baroque
Sunday, May 14 at 2:00pm

Grossmont Symphony Orchestra & Master Chorale

On Sunday May 14 at 2:00pm the Grossmont Symphony Orchestra & Master Chorale, under the musical direction of Randall Tweed, presents an all-Baroque concert entitled If It Ain't Baroque . . . with musical works from three of the high Baroque's greatest composers: Vivaldi, Handel and J. S. Bach.
With selected musicians from the Grossmont Symphony Orchestra, the Grossmont Master Chorale opens the concert with Vivaldi's rousing Psalm 147 "Lauda Jerusalem" for double chorus and double orchestra. Tenor Timothy Simpson then joins the orchestra with a performance of several arias from Handel's L'Allegro, Il Penderoso et il Moderato. GSO's concertmaster Ondrej Lewit and GSO principal oboist Michael Gaby are then featured in J. S. Bach's Double Concerto in D minor, BWV 1060R.
To end the concert of great Baroque masterworks is one of J. S. Bach's quintessential cantatas, Wachet Auf Ruft Uns die Stimme (Sleeper's Awake) featuring soprano, Audra Nagby, baritone Michael Sokol, and tenor Timothy Simpson (previous tenor soloist at All Saints') with the members of the orchestra and chorale. A wonderful selection of Baroque masterworks to enjoy in the beautiful acoustics of All Saints'.

Admission: $10 General, $5 Student



May Art Show, Sale & Music
Sunday, May 21, noon to 3:00pm


Save the Date — Sunday, May 21 at All Saints' in the church's courtyard from noon to 3:00pm. On display will be twenty assemblages by Todd Muffatti as well as art works by Teresa Lindenmeier and Troy Lindemeier.

To enhance the art show ambiance San Diego musicians will present a well-blended program of vocal and instrumental selections from musical theater, jazz, and the classical repertoire.






---




A GIFT TO ALL SAINTS'

Parishioners Karl Jorgensen and Don Lindstrom have given to All Saints' an assemblage of All Saints' created by Todd Muffatti. It is hanging in the Parish Hall on the large panel located to the left of the clergy gallery. You can't miss it as you look straight ahead when entering the Parish Hall. We give thanks for Karl's and Don's generosity and for the artistic talents of Todd Muffatti.




---




Call to Action: All Saints' Diaper Drive

Please join us in a Mother's Day Diaper Drive to benefit the women, children and families of two YMCA programs: the Cortez Hill Homeless Family Shelter and Becky's House, a domestic violence shelter for women and children. If you have spent any amount of time with infants and toddlers, you know first-hand that diapers are a family home staple and necessity. Unfortunately, many women in need of services have little or no means to purchase diapers. Although the YMCA provides diapers for the infants and toddlers in their programs, it is one of the items that they need on a continual basis.

If you would like to participate in the diaper drive, please bring a package of diapers, any size, (although the larger diapers and pull-ups are especially needed) to All Saints' during the month of April. If you would prefer to donate via cash or check, we will do the diaper buying for you.

In service,

Your Social Action Committee





CHRISTIAN FORMATION

Christian Formation will resume on Sunday, April 30 when the study of the Gospel of Matthew continues.




---




Pictures from the New City Sinfonia concert last Sunday - March 19, 2017



Photos by John Gray III




---

BLESSING BAG SUNDAY

Many thanks to all who participated in filling Blessing Bags this past Sunday. Completed bags are available in back of church and in the Parish Hall. Please take as many as you like to distribute to the homeless as you see fit. A supply is also kept in the Parish Office to give to anyone asking for assistance. The next Blessing Bag event will be during Advent.

Your Social Action Committee





Parish life

Do you enjoy using your phone to take pictures of where you are? We're looking for photos of our parish life at All Saints': parishioners as they arrive for Mass, or after Mass as they congregate on the patio, or are in the Parish Hall enjoying fellowship during the coffee hour, or at all parish events such as upcoming All Saints' Sunday. If you do, please email your photos to Louise Lawson at:






Presentation of our Lord Sunday - Feb 5, 2017 pictures
Fr. Tony's 37th anniversary of his ordination



Photos by John Gray III




ALL SAINTS' PRAYER CHAIN

We, at All Saints', have a long time tradition in our prayer chain. We feel that as we pray together and pass our thoughts and prayers to God that we deepen our relationship, not only to God, but ourselves as his servants.
Please consider joining the prayer chain ministry. Through prayer we can possibly make a difference in the lives of our Parish family and friends. Contact Edith Thrumston.

Prayer: The world's greatest wireless connection.





CORNER MONUMENT PLAQUE


On your next visit to All Saints' take a walk to the corner of Pennsylvania and 6th Avenues. There you will find that the church's cornerstone and the letters on the cornerstone have been repainted; and that All Saints' seal has been recreated in bronze. In the words of one of All Saints' parishioners— "classy". In the December/January newsletter issue an article will describe the various elements of the seal.






September 25, 2016 pictures - Baptism of Isla



Photos by John Gray III



From the All Saints' Concert Series - June 2016
St. Petersburg Men's Ensemble (Russian)



See the video also.
Photos by John Gray III





Trinity Sunday - May 22, 2016 pictures - Bishop's visit



Photos by John Gray III



Preschool Christmas Pageant


December 16th at 5:00pm. Hear the children sing christmas song lead by Fr. Sanders.





Sunday Morning Childcare

We are excited to announce that our nursery is now being staffed through Panda's Domestic Referral Agency, which provides childcare for many churches in San Diego. All sitters are childcare professionals that have undergone a national background check and are Infant and Child CPR Certified.





Special Offering on Second Sunday's loose plate

The loose plate collection on the Second Sunday of each month goes to the service of our community through the Parish Pastoral Needs Fund. Your generous contributions help us to serve members of All Saints' in need and our less fortunate neighbors as Christ serves us. Thank you for your continued help with this vital ministry.





All Saints' Action Committee Presents:

All Saints' Reading Group
Share your love of reading with others

Visit our neighbors at the various St. Paul's Senior Homes
Opportunities to read to residents in group and individual settings
Approximately 30 minutes per visit
Scheduling based on your availability, and the and needs of St. Paul's
6 month initial commitment
If you are interested in this exciting new way to connect with members of the community, contact: Joni Palumbo and Vanessa Brush throught the church office.




Want to be an Acolyte?

We have a pressing need for additional Acolytes in order to continue our worship in the manner to which we have all grown accustom. This is particularly true for the 10:30 Mass. If you are seeking an opportunity to serve and think that you might be interested in serving at the Altar, come by the Acolyte room before or after the service to learn what we do.